Alicia Keys and Contrastive Valence in 'Fallin'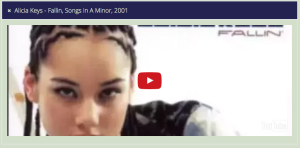 Click the link above to watch my new video on contrastive valence on www.psychologyinmusic.com.  Wondered when singing flat was a good thing? Wondered when a wrong note is actually the right note?
Please support my new venture, www.psychologyinmusic.com.  This is a new website containing videos and articles linking music and psychology.  The aim is to create a set of videos that outline techniques, grounded in psychology, that can be used by performers, composers and arrangers.  All articles are grounded in recent research; in this site, the bias is on musical tools rather than academic discourse.  Psychology in music is very young, and study of it is really exciting!  Please visit the site at www.psychologyinmusic.com and subscribe if you like what you see!  I will be uploading more videos this week; the first one is a psychological analysis of the bridge of Fallin', by Alicia Keys.
Thanks for supporting my music.
Dr Mark Baynes