Plays at the Samoa 2010 Jazz and Blues Festival
I am now playing with Black Sand Diva at the Samoa 2010 Jazz and Blues festival. This should be great fun, the band is fantastic and includes Jason Orme (Drums) and Ben Turua (Bass). The details of this event are listed here, thanks Mark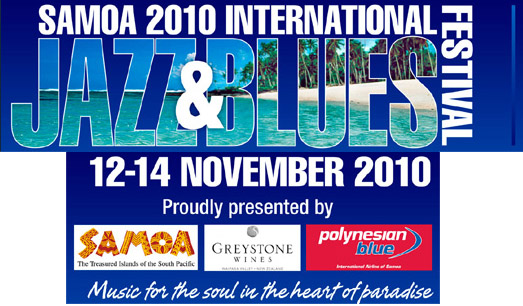 Samoa bout to party!
The beautiful island nation of Samoa will be the backdrop to world class jazz, blues and soul music over 3 days in November in a range of venues across Upolu Island at the Samoa 2010 International Jazz and Blues Festival.

Held over three days from 12-14 November, the festival is guaranteed to provide the perfect 'chilled out' holiday vibe, with a line-up that includes leading jazz and blues musicians from New Zealand, Australia, England and the United States – not to mention talented local bands and entertainers.

Among the international artists included are renowned musicians Ian Moss, Billy TK Jnr (Kiwi guitar hero), Hammond Gamble, Tony Painting (UK blues guitarist), Phil Broadhurst (internationally acclaimed jazz pianist), LA crooner, Diana Harris and a total of 20 bands!

The Minister of Samoa Tourism Hon, Misa Telefoni comments, 'This event is a first for Samoa and we are proud to welcome world class musicians and guests to our island paradise for the festival.'

Festival Director Billy Te Kahika adds, 'Samoa is the perfect place to hold a festival like this. I'm excited about the musicians coming and the beautiful destination that will host our festival guests – it's an amazing project!'

All festival venues will be featuring jazz and blues acts concurrently.

Samoa's stunning tropical scenery makes a wonderful backdrop for the festival – both Upolu and Savai'i are fringed by magnificent coral reefs and lagoons. There are also some great activities to keep you entertained, so when you're not busy taking in the sights and sounds of the festival, you can enjoy the snorkelling at Apia's Palolo Deep National Marine Reserve, have some fun at the Papase'ea Sliding Rocks, or check out the island's fantastic diving and fishing.

Better yet, come over early and you can spend a few days exploring Upolu, and enjoying all it has to offer! So make sure you book yourself some 'free' time to come and enjoy 'Music for the Soul in the Heart of Paradise'.